This experimental design project was consucted by a team of four students of the textile and surface design department at weißensee kunsthochschule berlin: Saskia Buch, Martha Maria Panzer, Clara Santos Thomas and Jasmin Sermonet.
The MoA Design Research Studio "Scaling Fiber" worked in cooperation with researchers of the Reaserch Cluster "Matters of Activity" and the Saxon Textile Research Institute at the interface of design experimentation and practical implementation.
In a transdisciplinary exchange with architecture, textile technology, material science and cultural studies, we discussed concepts for sustainable design and construction elements.
As early as the 19th century, the architect and theorist Gottfried Semper linked textiles with architecture and described the enclosure of space as a textile-based construction - as a "wall" that encloses spaces like garments enclose the body. We transfered the idea of the architectural textile to its central component: the yarn. Scaled from the micro-scale to the macro-scale, we interpreted textile as a structural framework. For this, we considered sheath or hybrid yarns composed of different material components. Their materiality and form create new joining possibilities, properties and functionalities.
07/2021 Exhibited during
see RUNDGANG 2021
, Berlin
11/2022 Published in
Architectures of Weaving - From Fibers and Yarns to Scaffolds and Skins
,
18/11/2022 - 29/04/2023 Exhibited in
DAOULA | sheen Exhibition
, Tieranatomisches Theater Berlin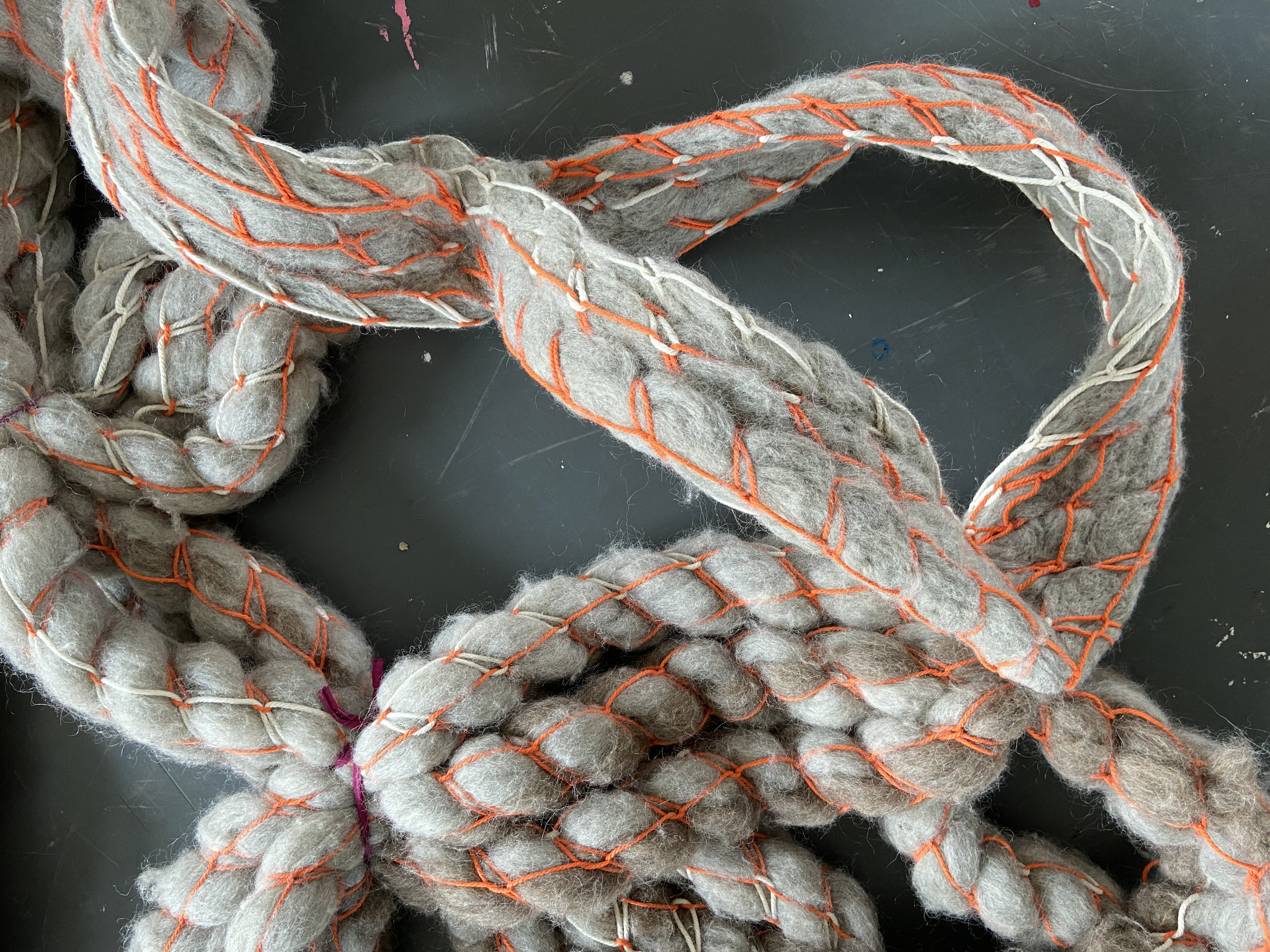 Clara Santos Thomas, 2021
"Scaling Fiber: Experimental Yarn"
Prof. Christiane Sauer
Sommersemester 2021
BA Textile and Surface Design
weißensee kunsthochschule berlin

© 2023 Clara Santos Thomas